Ljubica Spaskovska's article The "Children of Crisis": Making Sense of (Post)socialism and the End of Yugoslavia has just been published in the Journal of East European Politics and Societies, Volume 31, Issue 3, August 2017. It forms part of a special section on the Genealogies of Memory, guest edited by Ferenc Laczó and Joanna Wawrzyniak.
Ljubica's article traces certain mnemonic patterns in the ways individuals who belonged to the late-socialist Yugoslav youth elite articulated their values in the wake of Yugoslavia's demise and the ways they make sense of the Yugoslav socialist past and their generational role a quarter of a century later. It detects narratives of loss, betrayed hopes, and a general disillusionment with politics and the state of post-socialist democracy that appear to be particularly frequent in the testimonies of the media and cultural elites. They convey a sense of discontent with the state of post-Yugoslav democracy and with the politicians—some belonging to the same generation—who embraced conservative values and a semi-authoritarian political culture. The article argues that an emerging new authoritarianism and the very process of progressive disillusionment with post-socialist politics allowed for the emergence and articulation of such alternative, noninstitutionalized individual memories that, whilst not uncritical of the Yugoslav past, tend to highlight its positive aspects.
→ East European Politics and Socieities, Volume 31, Issue 3, August 2017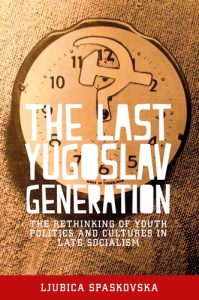 Manchester University Press have now published Dr Ljubica Spaskovska's new book – The Last Yugoslav Generation: The Rethinking of Youth Politics and Cultures in Late Socialism.
Her monograph examines the development of youth culture and politics in socialist Yugoslavia, focusing specifically on the 1980s. Rather than examining the 1980s as a mere prelude to the violent collapse of the country in the 1990s, the book recovers the multiplicity of political visions and cultural developments that evolved at the time and that have been largely forgotten in subsequent discussion. She argues that the youth of this generation sought to rearticulate the Yugoslav socialist framework in order to reinvigorate it and 'democratise' it, rather than destroy it altogether.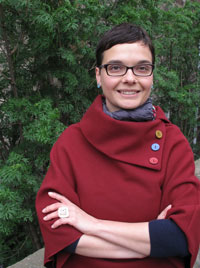 Ljubica Spaskovska is an Associate Research Fellow working on our research project 1989 after 1989 at the University of Exeter. Her research maps the history of the end of Yugoslavia's global engagements not only as a subject/phenomenon associated with political/diplomatic history, but also as a broader societal project.
→ Purchase The Last Yugoslav Generation
[Top]