SPECIAL ISSUE: Revisiting State Socialist Approaches to International Criminal and Humanitarian Law: An Introduction
Journal of History of International Law/Revue d'histoire du droit international
Volume 21: Issue 2
Date: 27 June 2019
Authors: Raluca Grosescu and Ned Richardson-Little
This special issue challenges the narrativeand offers a multi-disciplinary re-evaluation of European state socialist influence on the creation and evolution of international criminal law (ICL)4 and international humanitarian law (IHL). It questions the dominant legal and historical scholarship that portrays the Socialist Bloc as merely a roadblock to the progress of international justice and humanitarianism and posits an alternative narrative: the socialist world in fact played a vital role for the emergence and consolidation of new ICL and IHL norms after 1945 and its participation was an essential element in the transformation of these fields of law on a global scale. The collection emphasizes the socialist engagements with these fields as a combination of both progressive ideas (anti-fascism, anti-colonialism, and anti-apartheid), and realpolitik (the geopolitical competition with the West and the primacy of defending state sovereignty and maintaining state-level political power). Rather than acting as an antagonist to ICL and IHL development, socialist Eastern Europe simultaneously contributed to the generation of new forms of international law and hindered the advance and enforcement of a purely liberal and Western legal order during the Cold War.
https://brill.com/view/journals/jhil/21/2/article-p161_1.xml
SPECIAL ISSUE: Global Astana: Nation Branding as a Legitimization Tool for Authoritarian Regimes
Central Asian Survey
Volume 34, Issue 1, 2015
Special Issue: Offshore Central Asia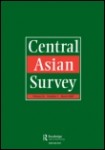 This paper examines how, in post-Soviet Kazakhstan, both channels of elite and banal nationalism (such as sports and higher education) serve as instruments to promote the country. Through these channels, Kazakhstan is portrayed as an open, dynamic and successful country, an image which is in serious disjuncture with the authoritarian nature of the regime. Taking advantage of massive oil revenues, the government organized a significant OSCE general conference in 2010, while chairing the institution. In addition, it created the Astana professional cycling team, which rapidly became a world leader in the sport. Last but not least, Nazarbayev University, attracting prominent Western scholars, is now designed to make the country compete in the international arena of academic rankings. Domestic and international performances are thus treated as instruments to promote the legitimacy of the state at national and global levels. But this would not be possible without the help of individual actors who actively participate in this process. A close investigation shows that their social capital is based on global connections in various spheres (sports, finance and academia). This paper draws on evidence gathered through qualitative methods of enquiry (participant observation and semi-structured interviews). Finally, Astana is treated as a Latourian actor-network that has its own life and agency, thanks to the global association of various human actors and material objects.
CONFERENCE PAPER AUDIO-RECORDINGS: Reading 1989 Globally: On the Interconnectivity Between Asia and the Fall of the Berlin Wall
International Conference in cooperation with the Research Institute of Comparative History and Culture
Hanyang University
November 6-8, 2014
It is twenty-five years since the Berlin Wall fell. On a grey November night the world was enthralled by the events unfolding in Germany's largest city. The country and city were still divided and yet to be officially re-united. What did the crumbling of the "iron curtain" signify for the rest of the world, which itself was still mostly divided into an Eastern and Western block? What were the outside forces that might have facilitated the fall of the Berlin Wall and German reunification? Taking a distinctly Asian perspective, historians and social scientists from Asia and Europe will take a fresh look at the fall of the Berlin Wall and 1989 as a global turning point. A transnational approach will be applied in order to gain new insights.
CO-EDITED VOLUME: Transitional Criminal Justice in Post-Dictatorial and Post-Conflict Societies
Co-editors: Raluca Grosescu and Agata Fijalkowski
Series on Transitional Justice
Volume 18
Published January 2015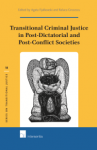 This volume considers the important and timely question of criminal justice as a method of addressing state violence committed by non-democratic regimes. Its main objectives concern a fresh, contemporary, and critical analysis of transitional criminal justice as a concept and its related measures, beginning with the initiatives that have been put in place with the fall of the Communist regimes in Europe in 1989.
The collection argues for a re-thinking and re-visiting of filters scholars use to interpret the main issues of transitional criminal justice. Such things as: the relationship between judicial accountability, democratisation and politics in transitional societies; the role of successor trials in re-writing history; the interaction between domestic and international actors and specific initiatives in shaping transitional justice; and the paradox of time in enhancing accountability for human rights violations. In order to accomplish this, the volume considers cases of domestic accountability in the post-1989 era, from different geographical areas, such as Europe, Asia and Africa, in relation to key events from various periods of time. In this way the approach, which investigates space and time-lines in key examples, also takes into account a longitudinal study of transitional criminal justice itself.
SPECIAL ISSUE: European Socialist Regimes Facing Globalisation and European Cooperation: Dilemmas and Responses
European Review of History: Revue européenne d'histoire
Volume 21, Issue 2, 2014
Routledge
Chapters in this special issue:
• The globalisation process and the Eastern bloc countries in the 1970s and 1980s
• Comecon and the South in the years of détente: a study on East–South economic relations
• National separation, controlled co-operation: how state-socialist elites communicated economic openings
• Soviet elites and European integration: from Stalin to Gorbachev
• Building détente in Europe? East–West trade and the beginnings of Romania's nuclear programme, 1964–70
• Between ideology and pragmatism: the ČSSR, the GDR and West European companies in the 1970s and 1980
• Failed Eastern integration and a partly successful opening up to the West: the economic re-orientation of Hungary during the 1970s
• Polish economic policy at the time of détente, 1966–78
• Acknowledging economic realities. The CMEA policy change vis-à-vis the European Community, 1970–3
• A troubled relationship: Yugoslavia and the European Economic Community in détente
→ Link to Taylor and Francis Online: European Review of History, Vol 21
VIDEO: The Last Yugoslav Generation
Written and Narrated by: Ljubica Spaskovska
Produced by: The Europeanisation of Citizenship in the Successor States of the Former Yugoslavia (CITSEE)
'The Last Yugoslav Generation' reflects on the generational critique of late Yugoslav socialism articulated by the youth cultural scene in the 1980s. Through interview excerpts it addresses their sense of 'layered Yugoslavness', as well as a sense of loss and betrayal after the end of socialism and Yugoslavia.
FINAL LECTURE: The Gospel of the Superiority of the Present Over the Past (25 Years after 1989)
European Network Remembrance and Solidarity Third Symposium: European Remembrance
11 April, 2014
Prague
Speaker: Pieter Lagrou, Free University of Brussels, Belgium
"We live in a situation of memory competition, in which we pay more or less attention to one or other memory. We have to make choices what memory we find more important, which doesn't mean forgetting the other events".
KEYNOTE LECTURE: Turning Points in European History: 1914-1945-1989-2004
European Network Remembrance and Solidarity Third Symposium: European Remembrance
9 April, 2014
Prague
Keynote Speaker: Marci Shore, Yale University (USA)
The main question Marci Shore posed was 'Should we open the closet of the past?'. Focusing on human nature she gave examples of people such as Milan Kundera (Czech Republic) or Leslaw Maleszka (Poland), who were involved in collaboration with communist regimes. Marci Shore said: A desire to account with the past, though understandable, can distract us from the essence of the past events and understanding human nature. She added: A question not raised often enough is the one about relations between totalitarianisms and the intimacy, the destruction of private lives. Marci Shore mentioned also Jan Patočka's term 'solidarity of the shaken' (not solidarity based on forgetting and then forgiving), which explains the Polish-Ukrainian solidarity of today and she clearly emphasized that no one in Europe can understand Ukrainians better then Poles.
→ Listen to the Keynote Lecture – Turning Points in European History
AUDIO PODCAST: Public Lecture – Rethinking Diffusion: 1989, the Colour Revolutions, and the Arab Uprisings
The London School of Economics and Political Science
4 February 2013
Speaker: Professor Valerie Bunce
Chair: Professor Fawaz Gerges
Why do publics decide to challenge authoritarian rulers; why do they take different approaches to achieving these ends; and what explains the spread of such challenges across state boundaries? In this lecture, Professor Bunce will compare these three waves of popular challenges to authoritarian rulers providing insights into the MENA dynamic and important issues related to cross-national diffusion.
CONFERENCE REPORT: From Gdansk to Tunis. Arab Revolutions of 2011 and the Central European System Shange in 1989. Arabic, Polish and German Experiences
Meeting of the German Poland Institute Darmstadt and the European Solidarity Centre
20 June 2012
Berlin
What was and is caused by the turmoil in Europe and the Arab world by universal values, which is specific and incomparable? This half-day conference provides a comparison between the movement for democracy in East Central Europe in the 1980s, with a focus on Poland, and the revolutionary developments in the Arab world.
→ Conference Report – From Gdansk to Tunis (German)
AUDIO PODCAST: After the Fall: World Order or Disorder after 1989
The London School of Economics and Political Science
Tuesday 4 March 2014, 6.30-8.00pm
Speakers: Prof Jacques Rupnik, Prof Mary Kaldor, Prof Michael Cox
Discussant and Chair: Dr George Lawson
The end of the Cold War in 1989 ushered in a more stable world shaped by an irresistible combination of capitalism and liberalism. But did it? New wars in failing states, the spread of nuclear weapons, rising terrorism, and in 2008 the great financial crash, all pointed to an international system where the certainties of a 20th Century Cold War had given way to a new century full of uncertainty and danger.
Past conferences from the Genealogies of Memory Project
The program's aim is to facilitate intellectual exchange between scholars of individual and collective memory in Central and Eastern Europe and to make memory studies in the region visible for international academic community. We are particularly interested in the theories and methods of memory studies.
CONFERENCE REPORT: In 1989 in a Global Perspective – International Conference
14 – 16 October 2009
Leipzig
Global and European Studies Institute, University of Leipzig; in cooperation with the Centre for East-Central European History and Culture; the European Network in Universal and Global History (ENIUGH); the Graduate Centre for the Humanities and Social Sciences of the Research Academy Leipzig (RAL)
[Top]