Published in September 2019: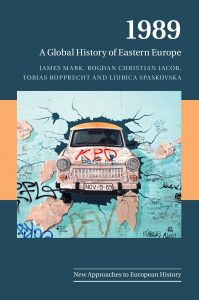 The book, co-authored by James Mark, Bogdan Christian Iacob, Tobias Rupprecht and Ljubica Spaskovska, brings together the major themes of the project and will be published in October 2019 to coincide with the 30th anniversary of the Eastern European revolutions.
By placing Eastern Europe in global context, the book provides new perspectives on the relationship between political, economic, and cultural globalisation and the collapse of communism.
The book provides new historically ground explanations for the rise of populism and anti-Westernism in Eastern Europe and beyond in the twenty-first century.
More information can be found here
---
Rethinking 1989
This five-year Leverhulme Trust-funded research (2014-18) aims to connect the decline, collapse and transformation of state socialism in the Soviet Union, Eastern and South-Eastern Europe to broader global processes. It supports a range of projects which explore both the global entanglements which informed this transition, and the way in which global, regional and local processes have shaped the way we have come to understand the decline and end of state socialism.

Projects supported here address the post-socialist transformation of cities, the 'Fall' and human rights between the global and local, criminal justice and the production of history across regional transitions, the 'globally entangled history' of cultures of transformation, late and post-socialist elites and the rise of neo-liberalism, and the global story of Yugoslavia's collapse.
We also seek to create links with those interested in understanding this moment of major political, economic and cultural transformation from different regional perspectives.
[Top]