Post Doctoral Research Associate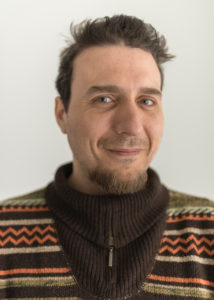 Bogdan C. Iacob holds a Ph.D. in History from Central European University. Between 2015 and 2017, he was principal investigator of the research project "Turning Global: Socialist Expert during the Cold War" (https://globalsocialistexperts.wordpress.com/) at the New Europe College (Bucharest). Between 2015 and early 2018 he was postdoctoral fellow at the Institute of History, the Hungarian Academy of Sciences in the international project "Socialism Goes Global Cold War Connections between the 'Second' and 'Third Worlds'" (http://socialismgoesglobal.exeter.ac.uk/). He received postdoctoral fellowships at Imre Kertész Kolleg in Jena, Center for Advanced Studies in Sofia, and the New Europe College.
Research
His research interests centre on the relationship between state socialist countries and the Global South in terms of global politics of culture and healthcare policies. He is looking at the transnational circulation of expert knowledge along the East-South axis during the Cold War in bilateral relations and at international organizations. Dr. Iacob is also examining the legacy of state socialism's global entanglements in the transformation of Eastern Europe after 1989.
Publications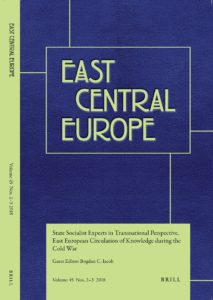 He is co-editor with Vladimir Tismaneanu of the volumes The End and the Beginning. The Revolutions of 1989 and the Resurgence of History (CEU Press, 2012), Remembrance, History and Justice. Coming to Terms with Traumatic Pasts in Democratic Societies (CEU Press, 2015), and Ideological Storms: Intellectuals, Dictators, and the Totalitarian Temptation (CEU Press, 2018).
He has published multiple articles and chapters on Balkan experts' cooperation at UNESCO, the internationalization of state socialist health, history of historiography, as well as democratization and politics of memory. Among his most recent publications are: a special issue on "State Socialist Experts in Transnational Perspective. East European Circulation of Knowledge during the Cold War" in East Central Europe, 44:2-3 (2018); (https://brill.com/abstract/journals/eceu/45/2-3/eceu.45.issue-2-3.xml) "Southeast by Global South: The Balkans, UNESCO and the Cold War" in Artemy Kalinovksy, James Mark, and Steffi Marung eds., Alternative Globalizations: Eastern Europe and the Postcolonial World (Indiana University Press, forthcoming 2018); "History's Debris: Many Pasts in the Post-1989 Present," Südosteuropa. Journal of Politics and Society, 64:2 (2016).
[Top]