STATE SOCIALISM, LEGAL EXPERTS AND THE GENESIS OF INTERNATIONAL CRIMINAL AND HUMANITARIAN LAW AFTER 1945
24 – 26 November 2016
Location: Humboldt University of Berlin, Unter den Linden 6, 10117 Berlin, Room 2249a

CONFERENCE SYNOPSIS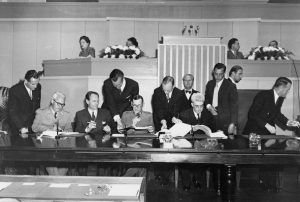 In the history of international law, the socialist bloc has been generally relegated to the role of roadblock to the fulfillment of the ideals of Western liberalism. Scholars of international criminal law (ICL) and international humanitarian law (IHL) have often dismissed the contributions of socialist legal initiatives as little more than Cold War propaganda and thus irrelevant to understanding the historical evolution of judicial norms and the modern international system. The establishment of different international tribunals since the collapse of the Soviet Union has only reinforced the notion that the socialist world was little more than an impediment to progress. Nevertheless, the American-led global war on terror has done much to call into question Western commitment to the laws of war.
This conference seeks to explore the role of state-socialist intellectuals, experts and governments in shaping the evolution of ICL and IHL since the end of the Second World War. Actors from Eastern Europe, the USSR, and East Asian and African socialist states actively participated in international debates regarding international legal norms, the meaning of state sovereignty, and in the negotiation of all major ICL and IHL conventions after 1945. In various cases the socialist bloc was often more enthusiastic, and timely, in supporting and ratifying international legal agreements than Western governments, even if these initiatives were inseparable from political agendas. Although they systematically opposed the creation of international tribunals, experts from socialist countries led the way in many areas, such as the codification of crimes against peace and Apartheid or the elimination of statutory limitations for major ICL offences. The socialist world participated also in debates over the international legal status of drug conflicts and revolutionary groups funded by narcotics trafficking. Deliberations on the criminalization of terrorism and the regulation of armed conflicts were closely linked to the politics of "wars of liberation" by socialist forces in Africa, South-East Asia, and Latin America. Socialist legal experts were active participants in transnational epistemic communities and engaged in broader global projects, initiatives, and mobilizations across the Cold War divide.
→ Call for Papers (CLOSED)
CONFERENCE PROGRAMME
Thursday, 24 November
14.00 – 14.45     Welcoming Address / Introduction
Marcus Payk [Humboldt University of Berlin]
Dietmar Mueller / Stefan Troebst [GWZO Leipzig]
Raluca Grosescu [University of Exeter]
Ned Richardson-Little [University of Exeter]
14.45 – 15.15     Coffee Break
15.15 – 17.00     PANEL 1: ICL & IHL IN SOCIALIST LEGAL DOCTRINES
Chair / Discussant: Bill Bowring [Birkbeck University of London]
Deconstructing the statist concept of international criminal law
Gleb Bogush [University of Moscow] & Maria Varaki [University of Istanbul]
Socialist Legal Doctrines and International Criminal and Humanitarian Law
Arno Trültzsch [GWZO Leipzig]
The Perestroika of International Criminal Law
Mikkel Jarle Christensen [University of Copenhagen]
17.15 – 18.15     Light Dinner
18.15                  Comment and Discussion
FRIDAY, 25 NOVEMBER
9.00 – 11.00     PANEL 2: STATE SOCIALIST CONTRIBUTIONS TO AND CRITIQUES OF THE GENEVA CONVENTIONS
Chair / Discussant: Jan Zofka [GWZO Leipzig]
The Socialist Bloc and the Geneva Conventions, 1945 –1949
Boyd van Dijk [European University Institute, Florence]
Between Arbitration and Judicial Settlement: Platon Dmitrievich Morozov, Georges Cahen-Salvador, and the making of the 4th Geneva Convention
Gilad Ben-Nun [University of Verona]
The Protagonism of the USSR and the Soviet Bloc in the Revision of International Humanitarian Law [IHL]
Giovanni Mantilla [CIDE, Mexico City]
11.00 –11.30     Coffee Break
11.30 – 13.00    PANEL 3: DECOLONIZATION, GENDER AND INTERNATIONAL HUMANITARIAN LAW
Chair / Discussant: James Mark [University of Exeter]
Africa's oldest liberation movement, the humanitarian imperative and the future of ICL/IHL in South Africa
Gerhard Kemp [Stellenbosch University]
Women's committees in the East Bloc and IHL
Beata Hock [GWZO Leipzig]
13.00 – 14.00     Lunch Break
14.00 – 16.00     PANEL 4: STATE SOCIALIST CONTRIBUTIONS TO INTERNATIONAL CRIMINAL LAW
Chair / Discussant: Moritz Vormbaum [Humboldt University of Berlin]
The Human Face of Soviet justice? Aron Trainin and the origins of the Soviet Doctrine of International Criminal Law
Valentyna Polunina [University of Heidelberg]
The Soviets' Role in the Conceptualisation of the Crime of Aggression
Kirsten Sellars [The Chinese University of Hong Kong]
The 1968 UN Convention on the Non-Applicability of Statutory Limitations for International Crimes
Raluca Grosescu [University of Exeter]
16.00 – 16.30     Coffee Break
16.30 – 18.30     PANEL 5: TRANSNATIONAL CRIMINALITY
Chair / Discussant: Isabella Löhr [GWZO Leipzig]
Socialist countries and the making of the 1949 Convention against trafficking
Sonja Dolinsek [University of Erfurt]
Soviet Internationalism and Decolonizing Moralities in Debates over Early UN Anti-Trafficking Conventions 1949 –1953
Philippa Hetherington [University College London]
"There is no drug problem in the GDR": East Germany, Narcotics Control, and International Law
Ned Richardson-Little [University of Exeter]
19.30     Conference Dinner
SATURDAY, 26 NOVEMBER
10.00 – 12.00     PANEL 6: ICL IN STATE SOCIALIST NATIONAL SETTINGS
Chair / Discussant: Kerstin von Lingen [Heidelberg University]
International Criminal Law and Human Rights Categories in China
Ryan Mitchell [Yale University]
Safety First: The East German regime's embrace of socialist legality, crime prevention, and socialist legal internationalism from the 1960s to the 80s
Sebastian Gehrig [University of Oxford]
The Implementation of International Criminal Law in the Hungarian Legal System
Tamás Hoffman [Hungarian Academy of Science]
12.00 – 12.30     Coffee Break
12.30 – 13.15     Concluding Remarks
To register your interest in attending this conference please contact Raluca Grosescu and Dietmar Mueller
---
The conference is organized by the University of Exeter, the Leipzig Centre for the History and Culture of East-Central Europe (GWZO), and the Humboldt University of Berlin.
This event is kindly supported by Exeter University's Leverhulme Trust-funded project 1989 after 1989: Rethinking the Fall of State Socialism in Global Perspective, and the German Federal Ministry of Education and Research (BMBF).
Organizers: Raluca Grosescu (Exeter), Dietmar Müller (Leipzig), Marcus Payk (Berlin), Ned Richardson-Little (Exeter), Stefan Troebst (Leipzig), and Natalie Taylor (Exeter).
[Top]