Global Neoliberalism: Lost and Found in Translation
British Academy Conference
7-8 June 2018
The University of Exeter and 1989 after 1989 will be holding a British Academy Conference on the 7-8 June 2018 entitled Global Neoliberalism: Lost and Found in Translation. This conference aims to provide a truly global account of the rise and entrenchment of the modern neoliberal order. Contributors will consider how neoliberal ideas travelled (or did not travel) across regions and polities; and analyse the how these ideas were translated between groups and regions as embodied behaviours and business practices as well as through the global media and international organisations. As the fate of neoliberalism appears in question across many regions, it is an opportune moment to make sense of its ascendancy on a global scale.
Convenors:
Professor James Mark, University of Exeter and 1989 after 1989
Professor Richard Toye, University of Exeter
Dr Ljubica Spaskovska, University of Exeter and 1989 after 1989
Dr Tobias Rupprecht, University of Exeter
Speakers include:
Professor Jennifer Bair, University of Virginia
Professor Susan Bayly, University of Cambridge
Professor Johanna Bockman, George Mason University
Professor Stephanie Decker, Aston Business School
Mr Julian Gewirtz, University of Oxford
Professor Daisuke Ikemoto, Meijigakuin University
Professor Artemy Kalinovsky, University of Amsterdam
Dr Alexander Kentikelenis, University of Oxford
Professor Pun Ngai, Hong Kong University
Professor Pal Nyiri, University of Amsterdam
Professor Vanessa Ogle, University of California, Berkeley
Professor David Priestland, University of Oxford
Professor Bernhard Rieger, University of Leiden
Professor Quinn Slobodian, Wellesley College and Harvard University
Dr Jorg Wiegratz, University of Leeds
Registration:
A registration fee is payable at the time of booking. For further information and details of how to book please see the British Academy website.
Dates:
7-8 June 2018
Times:
Opens 9am on the 7 June, closes 5pm on the 8 June
Location:
The British Academy
10-11 Carlton House Terrace
London
SW1Y 5AH
Standard Admission: £95 for both days; £50 for one day
Early Bird booking (before 31 January 2018): £75 for both days; £40 for one day
Concessions: £36 for both days; £20 for one day
Interested in transnational and global dimensions of justice and memory processes? Would you like to hear papers from three of our 1989 after 1989 academics covering topics such as transnational perspectives on the Kurapaty Memorial Site and transnational advocacy networks and corporate liability for international crimes?
The conference Transnational and Global Dimensions of Justice and Memory Processes in Europe and Latin America will be held in Paris on 8-9 June and the programme is now available.
The conference is organised by the University of Paris Nanterre, the Institut des Sciences sociales du Politiques (CNRS) and the University of Exeter, within the framework of the AHRC funded project The Criminalization of Dictatorial Pasts in Europe and Latin America in Global Perspective.
Transnational and Global Dimensions of Justice and Memory Processes in Europe and Latin America
June 8-9, 2017
Institut culturel roumain
1 rue de l'exposition, Paris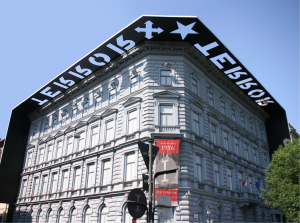 Justice and memory processes that had accompanied the "third wave of democratisation" have been the subject of a large body of academic literature. These works have commonly taken certain approaches. Some have analysed these processes within national borders or by providing comparative accounts of countries seen as discrete units, disconnected from transnational or global developments. Others, by contrast, have tried to account for the criminalization of dictatorships and conflicts in terms of the emergence of international norms based on an ethics of human rights and a "cosmopolitan memory" – often driven by a decontextualized remembrance of the Holocaust. This scholarship has however tended to overgeneralize global trends without always grasping the complexity of local attempts at dealing with the past. In the last ten years, a third approach, focusing on specific transnational entanglements, has gained ground. This emerging literature has started to analyze empirically transnational activism, exchanges of knowledge and expertise at bilateral, regional or international levels, the impact of legal and mnemonic narratives outside their countries of origin, and the role of international organizations and NGOs in dealing with mass violence.
Focusing on Europe and Latin America, this conference aims to take stock of this transnational turn in justice and memory studies and to develop a socio-historical analysis of the circulation of norms, repertoires of collective action and models adopted to deal with the legacies of authoritarian regimes and armed conflicts. It seeks to trace the interconnections and mutual influences of these processes both within Europe and Latin America and between the two regions, as well as the mobilizations of European and Latin American actors in international institutions, global NGOs, or at venues on other continents.
→ Conference Programme: Transnational and Global Dimensions of Justice and Memory Processes in Europe and Latin America
[Top]
Are you a Postgraduate student who would like to develop a PhD proposal in the field of Eastern European Studies, European Studies, Global and Area Studies? Are you based in Germany or is your current institution affiliated with the Leibniz ScienceCampus? If so, the EEGA postgraduate grant could be for you!
Call for Applications:
EEGA@future: Postgraduate-Grants (Preparation of PhD)
Deadline for submissions: 15 May 2017
Start of funding: 1 October 2017
Funding period: 3 months
What is the Leibniz ScienceCampus EEGA?
The Leibniz ScienceCampus "Eastern Europe – Global Area" (EEGA) is committed to developing new research perspectives on Eastern Europe, engaging in knowledge exchange activities on the region with stakeholders, and promoting young researchers. It follows the idea that the multi-disciplinary and multi-faceted examination of processes of globalisation are a key for a better understanding of actual societal developments. The focus is on Eastern Europe's diverse, tension-filled, and sometimes paradoxical globalisation projects "from within" and "from the outside", and thus, on the self-positioning of Eastern European societies under the global condition.
The EEGA brings together interdisciplinary knowledge and expertise from researchers affiliated with both universities and research institutes in the Leipzig-Jena-Halle science region. Together with partners from the region, the EEGA explores the fields of migration and mobilities; business strategies and political economies; cultural and intellectual perspectives and identities; and political integration in a changing global arena. Overcoming prejudices and clichés, some of which are rooted in the era of the Cold War, and promoting an informed understanding of Eastern Europe in its diverse traditions and positions, developments and (internal) dynamics, are the primary mission.
The eight partner institutions that form the ScienceCampus EEGA are the Leibniz Institute for Regional Geography, Leipzig (IfL), the Leibniz Institute of Agricultural Development in Transition Economies, Halle (Saale) (IAMO), the Friedrich Schiller University Jena (FSU), the Martin Luther University Halle-Wittenberg (MLU), Leipzig University (UL), the Fraunhofer Center for International Management and Knowledge Economy (IMW), the Leibniz Institute for the History and Culture of Eastern Europe (GWZO) and the Max Planck Institute for Social Anthropology, Halle (Saale) (MPI).
Details of the Scholarship and Training
The ScienceCampus EEGA invites applications by talented Postgraduate students who are intending to develop a PhD proposal in the field of research of the EEGA, ie Eastern European Studies, European Studies, Global and Area Studies, and the disciplines involved in the ScienceCampus. The EEGA will provide both financial as well as topical support to scholarship holders. The EEGA facilitates access to existing infrastructures at the member institutions of the EEGA. Scholarship holders get the opportunity to participate in existing PhD- and institutional colloquia and other events of participating institutes The ScienceCampus also offers additional training measures and services to the scholarship holders. They will get the chance to receive specific counselling from EEGA PostDocs, individual consultation with research area coordinators in the EEGA, training sessions organised by EEGA, and financial support of participation in existing courses at other universities or research institutions in Germany.
Eligible for Postgraduate-Grants are MA students from Germany, foreign Postgraduate students who are currently situated in Germany and Postgraduate students from institutions in other countries that are related to the members of the EEGA through cooperation agreements. Main criterion for selection is the compatibility of the Postgraduate student's research interest with the focus and aims of the EEGA.
Eligible are Postgraduate students only. Generally, the submission of the MA thesis should not date back longer than 12 months.
Applications should be related to the research focus of one or more research areas of the EEGA. The 5 research areas of EEGA are:
Research Area 1: Mobilities and Migration Regimes in Eastern Europe
(Coordination: Judith Miggelbrink and Helena Flam)
Research Area 2: The Self-Positioning of Eastern Europe in a New World Order In-The-Making
(Coordination: Frank Hadler and Matthias Middell)
Research Area 3: Business Strategies and Frameworks of Political Economies
(Coordination: Sebastian Henn, Thomas Glauben and Thorsten Posselt)
Research Area 4: Cultural and Intellectual Perspectives and Identifications
(Coordination: Jürgen Heyde, Yvonne Kleinmann and Stefan Troebst)
Research Area 5: Eastern Europe in Times of Europeanisation
(Coordination: Gert Pickel and Holger Lengfeld)
→ Further information about this opportunity and how to apply
→ Leibniz ScienceCampus website
[Top]